🔌 "Charging rooms" could be the end of wires
Electronics are great, but the heaps of tangled wires they cause are not. Researchers might have found a solution to the problem.
Share this story!
Last month, researchers at the University of Michigan and the University of Tokyo announced that they had developed a safe way to deliver electricity through the air.
The breakthrough can eventually lead to "charging rooms" - wireless charging areas that, for instance, can charge your smartphone without you even noticing it. All you have to do is enter the room; no cables or electrical outlets are needed.
The apparent advantage of charging rooms is that we could say goodbye to the millions of charging cables, adapters, and sockets we use today.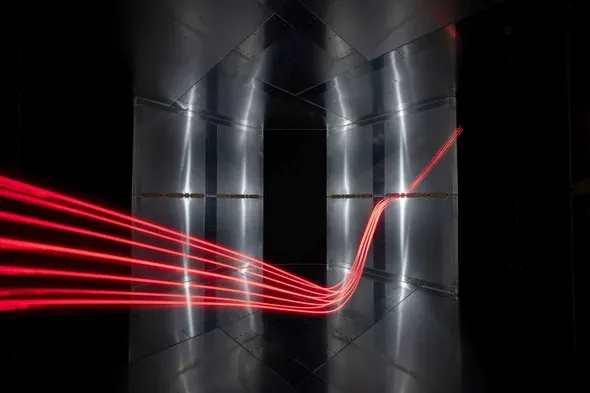 More than a convenient way to charge your phone
However, charging rooms would be more than just a convenient way to charge your phone. They could also pave the way for mobile robots and sensors that work seamlessly without humans having to manipulate them.
Entrepreneurs and researchers are already working on furnishing spaces that can interpret and react to our wishes, such as turning down the thermostat if we think it is too hot or dimming the light if we have a migraine. Continuous charging of sensors can make these personal spaces a reality.
Medical equipment could also benefit from charging rooms. For example, today's heart implants require a wire that runs from the pump through the body to an external power supply. Charging rooms will potentially eliminate the need for cords, which reduces the risk of infection and improves the patient's quality of life.
"I can imagine that this is really useful for spaces with a lot of instruments, expensive things like an operating room. There, you can imagine having different instruments and devices that can be operated without the need for cords", says Alanson Sample, a professor at the University of Michigan and author of the study, to Scientific American.
Works like a wireless charging dock
The charging rooms work similarly to a wireless charging dock: a metal coil in a changing magnetic field produces an electric current.
The researchers built a small room, about nine square meters, made of aluminum panels. Along the middle of the room was a metal pole, and it was furnished with a wireless fan, a lamp, and a smartphone. All devices had a metal coil that could easily be built into almost any electronics. There was also traditional furniture: a chair and a table.
The team was able to produce 50 watts in the small room and charge all wireless devices. To ensure that there were no dead zones, the system generated two separate 3D magnetic fields: one that covered the center of the room and one for the corners.
The next step - without aluminum plate
The team of Japanese and American researchers is now working on testing the system in a building on the University of Michigan's campus. The project is expected to be completed this autumn, but it will probably be years before the technology leaves the lab.
"It is far too laborious to install aluminum sheet metal along the walls, so the advantage is not significant enough yet. But we have just developed a completely new technology. Now we have to find out how to make it work in a practical way", says Alanson Sample to Scientific American.
🤓Do you want to dive deep? Read the full study "Room-scale magnetoquasistatic wireless power transfer using a cavity-based multimode resonator" at Nature Electronics.
By becoming a premium supporter, you help in the creation and sharing of fact-based optimistic news all over the world.