🔎 A doctor on a mission to improve the lives of millions of people (and John Grisham is helping him)
Dr. Neal Kassell is a famous neurosurgeon, and has operated on President Joe Biden. But now he has dedicated his life to spreading a medical innovation that could help millions of patients.
Share this story!
A minor tremor, with huge consequences
A few years ago, Beverly McGowan observed a minor tremor in a finger. You and I wouldn't even notice it. But it ignited a fear in her, due to her father's history with essential tremor, a Parkinson's-like disorder. She had seen her father, and his life, deteriorate. After a while, he couldn't even eat by himself, writes proto.life.
After the initial anxiety, she decided to do something about it. She ventured onto the web and found an unusual treatment. But would it really work? It was not covered by her health insurance, so she crowdfunded the money on the internet.
Brenda Hric has the same disorder. Her hands have been shaking for over two decades. But after only 44 seconds of treatment, they stopped.
"I looked at my hand, and I could see that it was not moving, and that was the first time I had been able to see my fingers still in about 20 years," Hric said to CNN.
Beverly McGowan experienced the same thing, after her treatment.
They had both found and been treated by something called focused ultrasound.
His life's mission
A man has made it his life's mission to spread focused ultrasound across the world, so that people like Beverly won't have to depend on googling and financing the treatment themselves.
His name is Neal Kassell, and he has had a successful career as a neurosurgeon. Among other things, he was the one who operated on Joe Biden's brain aneurysm. So, depending on your political view, you can either blame him or thank him.
I ask him why he gave up on that and instead dedicated his life to focused ultrasound.
He replies, as a doctor, he could help several hundred patients per year. As a researcher, which he has been since the 1960s, several thousand per year. But that's nothing compared to what focused ultrasound can do.
"Focused ultrasound has the potential, without exaggeration, to improve the lives of millions of patients", says Dr. Neal Kassell from his office at the Focused Ultrasound Foundation in Charlottesville, Virginia. That is the foundation he started so that more people would become aware of this revolutionary medical technology.
Works like a magnifying glass
Many of us have experienced one of the happiest moments of our lives when we've seen the image of our child after an ultrasound. As the name implies, focused ultrasound is based on the same fundamental idea, but the waves are concentrated. Much like beams of light can be focused on a point with a magnifying glass.
This allows the precise targeting of a specific area in the body or brain. Instead of drilling in or otherwise opening the skull, or another part of the body, focused ultrasound can get there and rectify a problem anyway.
That was why the treatment of Beverly McGowan and Brenda Hric only took a few seconds.
Can treat many medical disorders
Focused ultrasound can not only treat essential tremor, but it has a large range of applications.
"Today we understand 30 different ways focused ultrasound can affect tissue. Ten years ago, we only understood five. That creates the opportunity to treat a whole variety of serious medical disorders," says Dr. Kassell.
Cancer: tumors of the brain, breast, prostate, liver, and pancreas
Neurodegenerative diseases: Parkinson's, Alzheimer's, essential tremor, and ALS
Psychiatric disorders: depression, obsessive-compulsive disorder, and addiction
Pain: bone metastases, neuropathic pain, arthritis, and cancer pain
Pediatrics: brain tumors, sarcoma, desmoid tumors, and osteoid osteoma
"Around the world today there are more than 170 in various stages of research, development and commercialization. Ten years ago, there were only three."
But the process is often slow. And slow means lost lives, or people forced to live long with a disease.
What you can do to help
Focused Ultrasound Foundation is working hard to speed things up. By helping to assemble scientific evidence, create awareness, find partners for the manufacturers, provide capital (both human and financial) and support the manufacturers so they become successful businesses.
And when it comes to awareness – you can help!
I ask Dr. Kassell what the Warp community can do to support him and his foundation's work.
First and foremost: "Learn about it. Tell others about it. Sooner or later, everyone, or a friend or a loved one, or even a dog or a cat, is going to have a condition that could be treated by focused ultrasound. Increase awareness and spread the word!"
If you want to do more, you can support the Focused Ultrasound Foundation with a donation. And if you are an investor, there is an opportunity to invest in the manufacturers of the equipment. Contact me or the Foundation directly, and they can help you.
New York Times best-selling help
Speaking of awareness, you are indeed in good company with the world-renowned author John Grisham, who sits on the foundation's board and has also written a book about it, called The Tumor.
"He joined the foundations board, because awareness is really important. We wanted to use his brand and storytelling ability. Almost everyone in the world wants to meet John Grisham. But no one in the world wants to meet me. We use him as the bait", says Dr. Kassell and laughs.
If you want to learn more about focused ultrasound, visit the Foundation's website. This video by Dr. Sanjay Gupta, and the article at CNN, are both very good.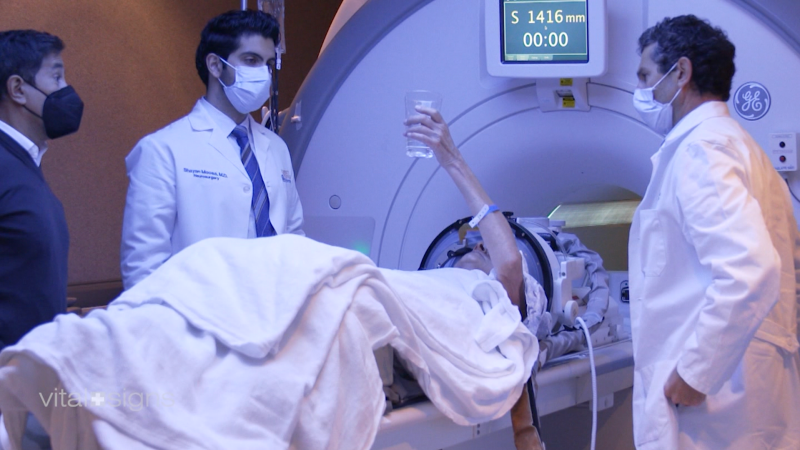 Mathias Sundin
The Angry Optimist
By becoming a premium supporter, you help in the creation and sharing of fact-based optimistic news all over the world.