☀ Solar power now gives us the cheapest electricity ever
Expansion of solar and reduced use of coal power gives hope that we will be able to cope with climate change without it leading to disaster.
The fall in the price of solar panels over the past decade means that solar power is now cheaper than coal and gas power in most countries. In some places, solar power is now so cheap that it gives us the cheapest electricity ever produced . It shows a new report from the International Energy Agency, IEA.
The IEA estimates that the expansion of solar power will increase sharply by 2030. Wind power will also grow significantly over the next decade, and in total renewable energy will be able to meet 80 percent of the increased electricity demand by 2030.
- I see solar power as the new king of the electricity market. If the current trend continues, solar power will break new records in terms of expansion every year between 2022 and 2030, says Fatih Birol, Executive Director at the IEA.
For coal power, on the other hand, it looks dark. It competes with both renewable sources and natural gas and is now an expensive and dirty way of producing electricity. The IEA estimates that coal-fired power plants producing 275 gigawatts (GW) today will be shut down by 2025. This corresponds to 13 percent of the total coal power in the world.
The reduction will primarily take place in the USA (100 GW) and within the EU (75 GW). Some countries in Asia will use more coal than today, but this will be more than offset by the case of coal in the rest of the world.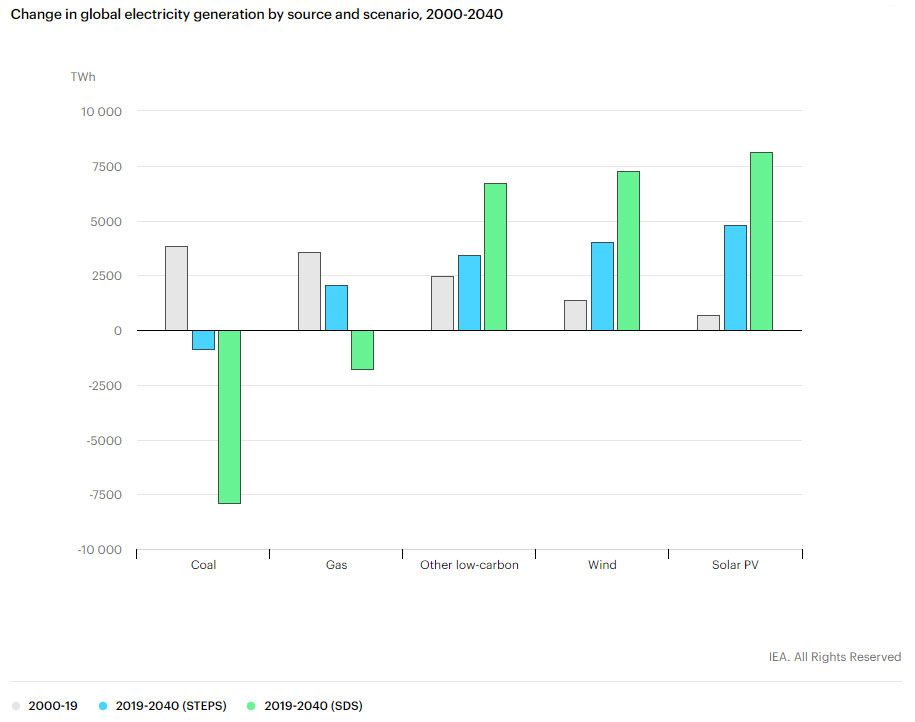 By 2040, coal will account for less than 20 percent of total energy production. This is the first time coal power has been down to such a low percentage since the industrial revolution took off in earnest.
The IEA believes that we can now eliminate net carbon dioxide emissions in the world by 2050 with the right measures. One of these measures is to switch to renewable electricity and that is where market forces seem to lead us right.
Then changes that the pandemic has forced us to do can also help us keep emissions down. For example, if we continue to work at home a few days a week and cut back on air travel, it would help keep emissions down.
This gives the IEA hope that we have a better chance of dealing with climate change. We may now have reached the peak of greenhouse gas emissions and that these will decrease in the future. Now the decrease does not seem to be large enough for us to meet the goal of limiting the temperature increase to 1.5 degrees, but the hope is increasing.
- If states and investors increase their investments in line with our Sustainable Development Scenario, the expansion of solar and wind would be even more spectacular than we expect in the main scenario - it would be very encouraging when it comes to dealing with the climate challenge, says Fatih Birol.
Read a summary of the report here or buy and download the full report here .
📝 Get a weekly dose of fact-based optimism right in your inbox every week.
Join over 15,000 optimistic, forward-looking subscribers who are making a better and more prosperous future come sooner.
By becoming a premium supporter, you help in the creation and sharing of fact-based optimistic news all over the world.