😒 How typical: The first time they write about Pythom Space, it's negative
Pythom Space finally got their news media breakthrough. Unfortunately, it was negative. Several news media criticized them. None of them had written a word about Pythom Space before. This is an example of a bigger problem with negative news media, that Warp News are solving.
Share this story!
Pythom Space finally got their news media breakthrough. Unfortunately, it was negative.
Despite Mars ambitions, silence from the news media
Right now, in the entire world, there are only two projects working towards sending humans to Mars: SpaceX and Pythom Space.
You would think that would be enough to write about Pythom Space? We at Warp News have covered them for a couple of years. They have also gotten a little bit of media attention in their native Sweden.
But in the U.S. there has been silence, even though the two founders, Tina and Tom Sjögren, also are U.S. citizens and the company is located in California.
The silence is over. And in typical news media fashion the first time they report on Pythom Space, it is very negative.
"Masterclass in how not to do rocket science"
It started with a tweet from influential space journalist, Eric Berger.
The background was that Pythom Space had recently performed a micro-jump of their first rocket. We reported on it here.
In the video you could see people running away from the cloud of dust and smoke coming from firing the rocket engine. They also didn't use hard hats when raising the rocket.
Many people piled on in the comments and Eric Berger wrote a text about it on Ars Technica.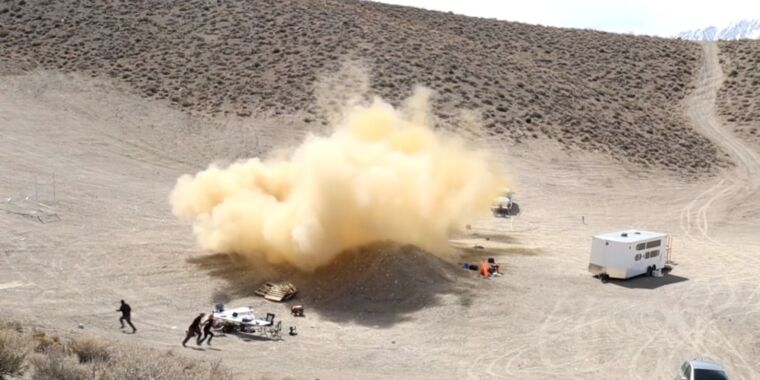 Other media picked it up. Like Feber.se, TechCrunch, Interesting Engineering, IF Science and others.
None of them had written a word about Pythom Space before.
The news media is overwhelmingly negative
That is what I'm critical about. Not that they write something negative about a company, but that it is so typical that news media only gets interested when there is a problem or something to criticize. I also thought the running looked weird, but if the news were balanced, they would have already written about Pythom Space and their aspirations.
But what about Warp News? We are not balanced either.
No, we are not. We write fact-based optimistic news. That is our stated goal and mission. If the news media mentioned above had the stated goal of only writing negative news, then their reporting would be fine in this case. But they all aim to have some sort of balance.
News media makes people pessimistic
This is an example of how the news media works. Yes, there is positive news, but they get drowned out by the negative. It screws up people's view of the world and makes them pessimistic.  
Last year we did a survey in Sweden and 42 percent said they became more pessimistic by following the news. Four percent got more optimistic.
The news media should reflect what the world actually looks like, the good and the bad. Now you think the world will go to hell if you rely on the news for information.
Eric Berger, part of the problem, this time
Eric Berger is actually my favorite space journalist. I read everything he writes. And his book about SpaceX's early days is fantastic. But in this case, he was part of the news media problem. Not by reporting on a problem, but by being unbalanced in his coverage of Pythom Space. I hope he follows up on this by visiting Pythom Space in California.
Pythom Space responded to the critique with this video. They argue that the cloud was not dangerous and that the person who didn't wear a hard hat (Tom) was not under the rocket.
By becoming a premium supporter, you help in the creation and sharing of fact-based optimistic news all over the world.