🔋 The price of batteries for electric vehicles has fallen by 88 percent in ten years
Lithium-ion batteries have fallen sharply in price over the past decade, and in three years' time they may be so cheap that electric cars do not cost more to make than petrol and diesel cars.
Share this story!
In 2010, battery packs for electric vehicles, lithium-ion batteries, cost an average of just over $ 1,100 per kilowatt hour. This year, the cost is $ 137 per kilowatt hour. This is a price reduction of around 89 percent and only from last year has the price fallen by 13 percent.
This is shown by a survey conducted by the analysis company Bloomberg NEF and the company predicts that prices will continue to fall. In 2023, Bloomberg NEF expects the average price of lithium-ion batteries to be below $ 100 per kilowatt hour.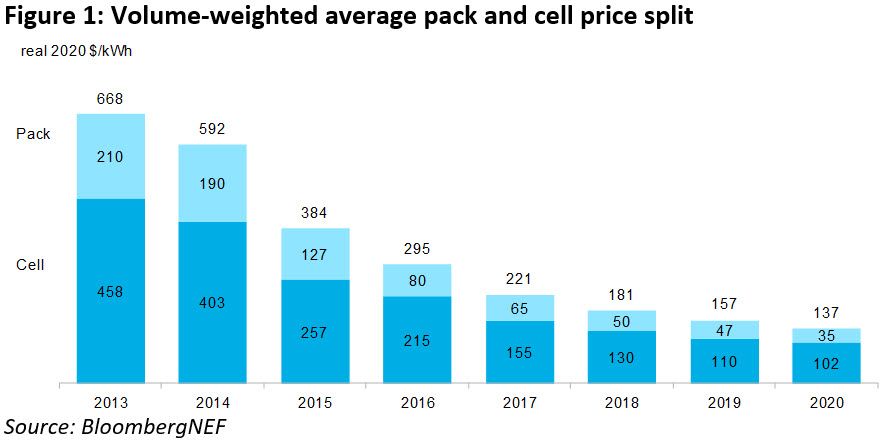 In fact, some electric bus batteries already cost less than $ 100 per kilowatt hour. So there is a good chance that the average price will end up at the level in three years at the latest. The limit of 100 dollars is important because it is at that level that electric cars can be as cheap as petrol cars and the transition to electric vehicles can take off in earnest.
One concern is, of course, that lower prices are driving up demand for lithium, which in turn could lead to higher battery prices again. But James Firth, lead author of the study, does not think that will happen.
- Our analysis shows that even if the prices for the raw material would increase to the high level they were at 2018, it would still only delay the price reduction to 100 dollars per kilowatt hour by two years - rather than putting sticks in the wheel for the entire industry. The industry is becoming increasingly resistant to higher prices for raw materials as leading manufacturers move higher up the value chain and start investing in cathode production or even buying their own mines, he says.
One reason why prices have fallen so much is that manufacturers have become much better at using their factories. The utilization rate is now 85 percent for the leading manufacturers. This reduces the cost per kilowatt hour and improves profitability.
Profitability is now around 20 percent among the leading manufacturers. This means that they can afford to invest in more efficient manufacturing, which reduces prices even more.
Exactly how low prices can fall is not known, but Bloomberg NEF still predicts that batteries will cost 58 dollars per kilowatt hour in 2030. It may then be a different technology than lithium ion. But in any case, it would then make electric vehicles much cheaper than vehicles that use internal combustion engines and thus be able to help us reduce emissions properly.
By becoming a premium supporter, you help in the creation and sharing of fact-based optimistic news all over the world.