🌅 The solar energy plant that is so large that it can be seen from space
The Australian desert will be home to a solar power plant with a total power of ten gigawatts.
Share this story!
The world's largest solar energy facility will cover an area equivalent to 20,000 football pitches. In any case, this is the goal of the Australia-ASEAN Power Link facility, which is scheduled to be completed in 2027.
The giant plant consists of solar panels that will give a total effect of ten gigawatts. The electricity is for the Northern Territories in Australia and nearby Singapore. Although the location is perhaps to take in. To get to Singapore, the electricity will go 4,500 kilometers via cable. 3,700 of these kilometers run through the world's longest submarine cable.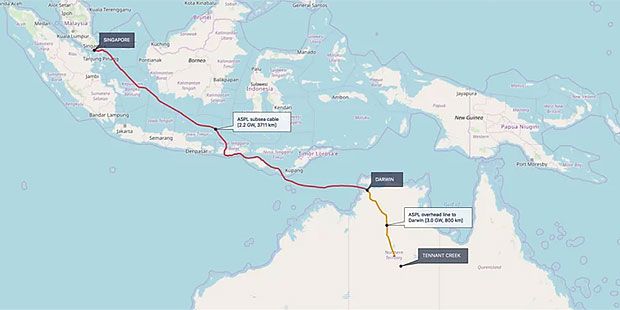 In Singapore, the plant will account for 20 percent of the country's electricity needs. A half-sized plant in Morocco has already reduced emissions there by hundreds of tonnes compared to the fossil fuels used previously. So this facility gives Australia and Singapore better conditions to reduce their climate impact.
The total cost of the facility is budgeted at $ 20 billion. But since the export of electricity to Singapore alone is estimated to draw in two billion dollars a year, the investment can be counted on relatively quickly.
From coal to sun
Australia has received some criticism for being so dependent on coal, but the company behind the solar power plant, Sun Cable , believes that this could be the beginning of a new era for electricity production in Australia.
- In a world that wants to reduce coal use, Australia should be a winner. We have the resources, ingenuity and forward thinking to do this. If we succeed, we can create a new export industry for Australia, create jobs and lay the foundation for the economy of the future, says Mike Cannon-Brookes, largest investor in Sun Cable.
CEO David Griffin aims even higher and believes that this investment can show the rest of the world what is possible.
- If you can send electricity over long distances in an economical way, the energy flows in the future will not consist of oil and natural gas without electrons. In the end, it is simply a much more efficient way of transporting energy. Oil and gas will not be able to compete, he says.
By becoming a premium supporter, you help in the creation and sharing of fact-based optimistic news all over the world.