🏆 Battery-powered drones deliver COVID-19 vaccine
Vaccination against COVID-19 is a challenge in sparsely populated areas. Zipline has experience in distributing healthcare equipment outside cities. Now you get a new assignment.
Share this story!
In April, drones from Zipline will receive a new assignment. They will deliver vaccines to areas that are difficult to reach by traditional transport.
Where you live should not determine whether you get vaccinated against COVID-19 or not, says Zipline's CEO Keller Rinaudo .
We have previously written about Zipline , which has now managed 400,000 deliveries with its battery-powered, winged drones. They will drop the delivery of COVID-19 vaccine, at a few pounds per parachute, and then return to their distribution center for the next mission.
Since 2016, Zipline has supplied medical equipment to clinics in Rwanda, Ghana and North Carolina. Delivery to Nigeria will also begin shortly.
Their offer is for fast deliveries of vaccines - at short notice. Each drone carries with it a few dozen doses of vaccine, at the cold-stored temperature required for this particular vaccine.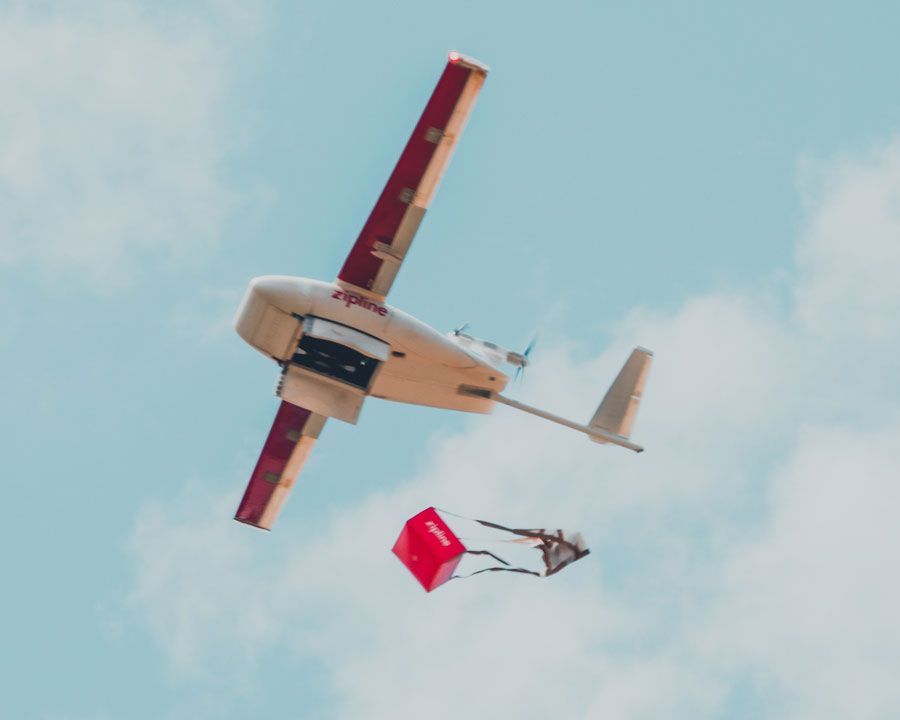 The zipline drone has an operating radius of around 100 miles. According to Zipline, a distribution center can cover an area of ​​over 12,000 square miles.
Some vaccines require cooling on dry ice down to minus seventy degrees Celsius, which is a challenge for logistics. Thanks to Zipline, some receivers do not have to maintain the same freezing capacity.
We can help healthcare to take a shortcut in the infrastructure and logistics chain by offering immediate delivery, says Zipline's CEO Keller Rinaudo.

Make the future come sooner!
By becoming a premium supporter, you help in the creation and sharing of fact-based optimistic news all over the world.