🔋 Have electric cars reached price parity with fossil fuel cars now?
"...electric cars will reach the same price level as combustion engine cars by 2024," we wrote in 2021. Too optimistic, some said. You are naive, others said. Now it's almost 2024, how naive were we?
Share this story!
Naive EV optimists
"...electric vehicles will reach price parity with internal combustion engine cars in 2024", I wrote in our first Optimist's Edge article.
Too optimistic, some said. You are naive, others said. Now it's almost 2024, how naive was I?
It turned out that I was a bit too pessimistic. With three months left to 2024, we are already there. At least, the world's best-selling electric car company, Tesla, is.
Here is what Bloomberg writes:
"The Model 3's starting price is now $6,500 less than the cheapest BMW 3 Series, which is often seen as the Tesla sedan's most direct gasoline-powered competitor."
In that Optimist's Edge article, we asked people when they thought electric cars would become cheaper to buy than gasoline and diesel cars. The most common answer, with 36 percent of respondents, was never (which is quite a long period of time.)
Purchase price is most important
For several years, the total cost has been lower for an electric car, but only a few who buy a new car make a calculation of the total cost. Most just look at the sticker price.
Although the purchase price for an electric car has been higher, sales have increased sharply in recent years.
So what will happen now when the prices are at the same level and soon are clearly much lower? It should not be difficult to figure out. The sales of electric cars will continue to increase sharply and soon new car sales will consist of nearly 100 percent electric cars.
But not everyone agrees. Forecasters, for example. Governments build their assumptions in budgets and other decisions based on forecasts by government agencies. In Sweden from the Swedish National Road and Transport Research Institute. They believe that by 2030, only 70 percent of new cars will be electric and 30 percent will be fossil-fueled.
Why would anyone buy a more expensive and inferior car in 2030? The fossil buyers then could be various specialized vehicles that do not yet exist as electric vehicles and some really hardcore pessimists. But these are, fortunately, far from 30 percent.
It reminds me of this compilation of forecasts for solar energy, compared to the outcome...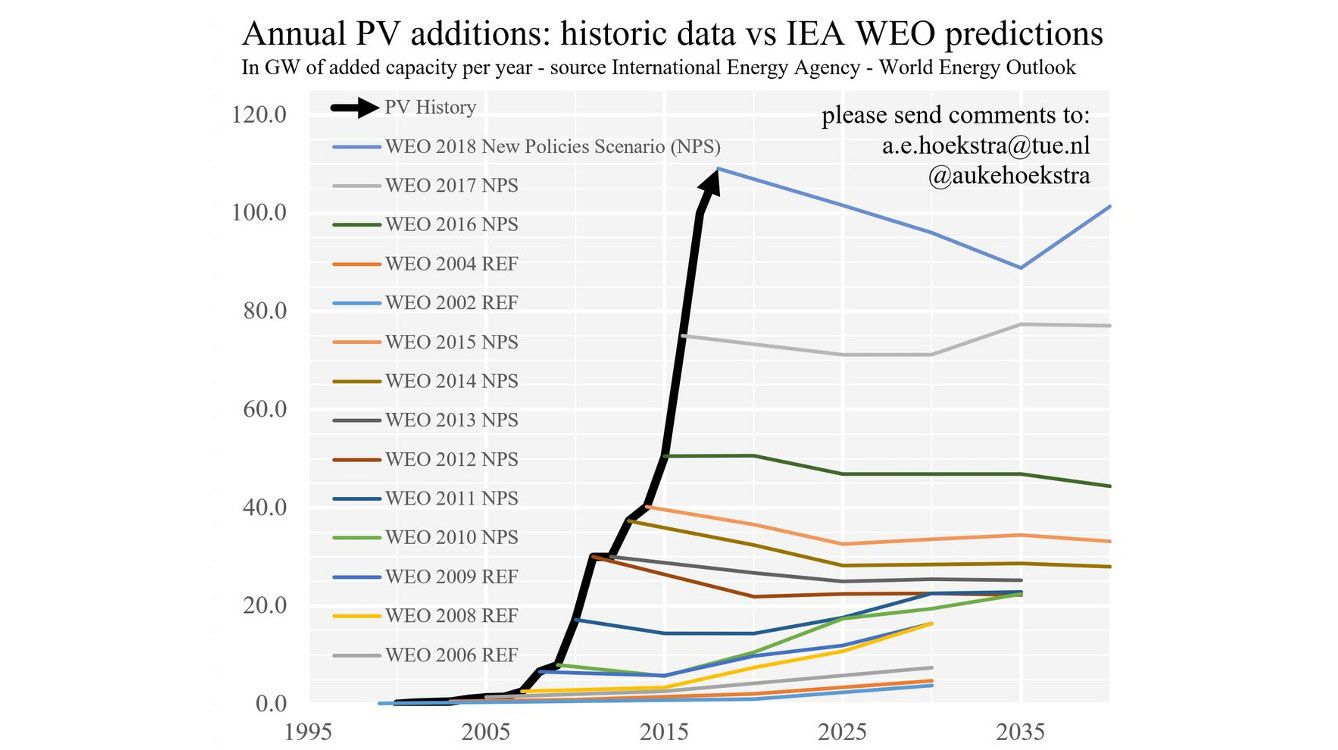 Optimist's Edge
Fact-based optimists are better at understanding technology shifts. No one is perfect at predicting the future and we optimists can often believe that the effect and impact in the short term will be greater. But time and again we come closer to reality than the pessimists and the so-called realists (who are undercover pessimists).
This is how people answered in our 2021 survey about when they thought there would be more electric cars sold than fossil cars. "Never" was the second most common response.
What I did in my forecast for electric cars was to look at Wright's Law, understand that the market leader Tesla would cut prices, and take into account the political will to transition to electric. I was almost right, but a little too pessimistic. Even I apparently have some naivety that needs to be washed away.
Mathias Sundin
The Angry Optimist
By becoming a premium supporter, you help in the creation and sharing of fact-based optimistic news all over the world.