💡 Warp News #193
🛢️ Significant drop in oil spills. 🦟 New repellent thwarts 99% of mosquito bites. 👪 Fewer children experience separation. 🌏 Global inequality is decreasing. 🚀 Future Mars travelers Tina & Tom starts rocket manufacturing.
Share this story!
If someone forwarded this newsletter to you and you want to subscribe, here is where you do that. It's free and arrives once a week.
🍰 Summer, AI, long-termism, focused ultrasound and Wallander pastry
I started my vacation week traditionally by reading a crime novel and forcing myself not to think of anything Warp related.
If you're lacking summer reading, I have a bunch of tips here.
When our son was at his grandparents, his mother and I took the opportunity to go and celebrate our seven-year wedding anniversary with a mini-road trip to Ystad and Smygehuk, Sweden's southernmost point.
At a (poor) pastry shop, we ate a (good) Wallander pastry. Kurt Wallander is the detective in a series of fictional crime novels, taking place in Ystad. There we started talking with an American couple, who had decided to travel to Sweden instead of Norway because of the Wallander books and movies(!) Take that, Norway!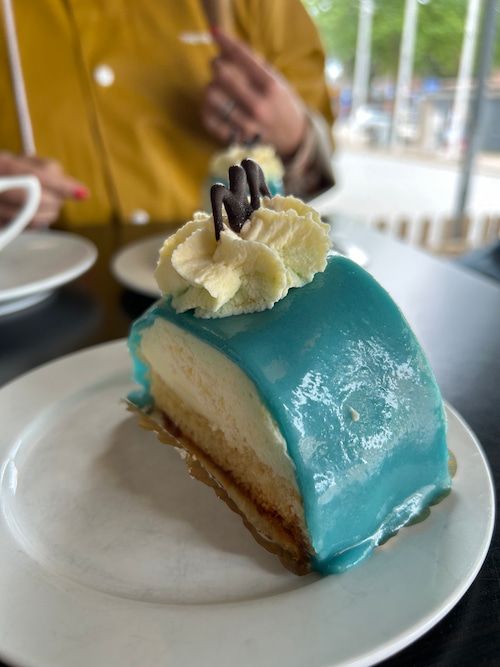 I've managed to do some other things as well.
In the Swedish daily newspaper, Svenska Dagbladet, I've written about why we don't need any special AI regulation now.
In Expressen, another large Swedish newspaper, I wrote together with Anders Bolling and Emma Varvaloucas, from The Progress Network, about the lack of evidence for a sixth mass extinction of animals and species, and that those who claim this should nuance their views.
Warp Institute (the foundation behind Warp News) will build AI tools for teachers, other school staff, and students. I am an (almost fully trained) teacher, so it feels fantastic to combine this with the latest AI development.
I've interviewed two very interesting people, Oxford philosopher Will MacAskill on long-termism. And Dr. Neal Kassell, who gave up his successful practice (he operated on Joe Biden) for something called focused ultrasound. You'll find our discussions below.
Further down in the email, as usual, you will find a bunch of fact-based optimistic news. Some really interesting ones!
I wish you a continued lovely summer, and remind you that the slower summer pace still prevails at Warp News. The next newsletter arrives in two weeks.
Mathias Sundin
The Angry Optimist
Other articles
🔎 A doctor on a mission to improve the lives of millions of people (and John Grisham is helping him)
Dr. Neal Kassell is a famous neurosurgeon, and has operated on President Joe Biden. But now he has dedicated his life to spreading a medical innovation that could help millions of patients.
📖 Will MacAskill: Think long term - act now
We spoke to the world-renowned philosopher about what the future deserves, why the future is likely to be good - and how you can impact it.
💡 Fact-based optimistic news of the week
🚀 Future Mars travelers Tina & Tom starts rocket manufacturing
Tina and Tom Sjögren are adventurers with their sights set on Mars. They plan to build their own rocket to get there. Now they share where the first rockets will be manufactured and the latest developments for the company. Among other things, they now have a test pad near Area 51.
☄️ Avi Loeb's deep sea expedition retrieves first interstellar material (is it alien?)
The expedition is part of a scientific research program to obtain high-quality data on UAP (Unidentified Aerial Phenomena) and interstellar objects.
🌏 Global inequality is actually decreasing
Despite frequent claims of rising inequality, global inequality is actually decreasing. Around the end of the Cold War, global inequality reached its zenith with a Gini index score of 69.4 in 1988. By 2018, this figure had fallen to 60.1, a level last seen at the end of the 19th century.
👩‍💻 IBM's quantum breakthrough - real-world applications within two years
IBM's quantum computer successfully completes a 'benchmark' experiment. Researchers work around quantum noise to get reliable results. The achievement suggests quantum computers could have practical applications within two years.
👪 Fewer children experience separation (did the pandemic lead to fewer divorces?)
2021 and 2022 represented a break in the trend, with fewer children experiencing their parents' separation.
💻 Transcription of our Kevin Kelly interview
Transcription of our interview with Kevin Kelly, on his latest book, Great Advice for Living and on AI, the next hundred years, Warp News and much more.
🦟 New repellent thwarts 99% of mosquito bites
Israeli scientists have developed an advanced "chemical camouflage" that stops 99 percent of mosquito landings on the treated skin. The new repellent combines indole, a fragrant substance found in flowers, with a cellulose polymer.
🏫 Warp Institute starts AI for schools company
We have waited a long time, but now it is possible to create a super-smart private tutor for each student. And for the teachers, an equally smart, hard-working teaching assistant who helps with documentation and development.
🛢️ Significant drop in tanker oil spills
The number of oil spills from tankers has seen a significant decrease. Also the quantity of oil spilled has decreased dramatically.
🦾 AI makes Dr. Doom optimistic
AI is set to increase productivity in the next decade significantly, predicts "Dr. Doom", economist Nouriel Roubini. A recent McKinsey study showcases the potential of generative AI to boost economic output.
---
If you like this newsletter, please forward it to a friend and ask them to subscribe. It's free and arrives once a week.
By becoming a premium supporter, you help in the creation and sharing of fact-based optimistic news all over the world.